Yukioniya Onsenki
雪鬼屋温泉記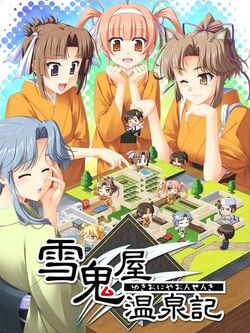 ©ソフトハウスキャラ
Version
1.01
Developer(s)
Softhouse Chara
Publisher(s)
Softhouse Chara
Release Date
June 24, 2011
Genre(s)
SLG
Mode
Single Player
Age Rating(s)
18+
Platform(s)
PC
Price
¥8800

¥9240 (tax included)
Yukioniya Onsenki (雪鬼屋温泉記) is a hot spring (onsen) inn (ryokan) management simulation game, developed and published by Softhouse Chara for Windows platform. It is the 16th installment of Softhouse Chara games.
Gameplay
Edit
Main articles: System, Facilities, and Investments
Yukioniya Onsenki features simulation of hot spring inn management. Hire competent staffs, build and position facilities appropriately, invest on new ideas to either entertain the customers or accommodate the employees, and adjust rules within the establishment to gain the best possible feedback from both customers and employees alike.
Main article: Characters
Sakichi's parents told him that their inheritance is his only if he can run the hot spring inn for 3 years without any problems.
Even though he doesn't have any experience of running one, he is used to them since he used to live in one. He recruits several of his friends to help him with his business. It is not an easy task as there are mountains of problems to overcome, from unruly guests and sabotage from other inns, to severe weather and even fairies. However, the biggest problem is… he won't have any time to play with girls!
Will he be able to successfully acquire his task without sacrificing his lovelife?
Promotional Trailer
Edit
System Requirements
Edit
System requirements are as follows:
Operating system
Windows XP/Vista/7 64 bit (recommended)
CPU
Pentium III 700 MHz (minimum) | Pentium III 1 GHz (recommended)
Hard drive
1.5 GB free space (minimum) | 2.4 GB free space (recommended)
Memory
512 MB RAM (minimum) | 1 GB RAM (recommended)
Resolution
800x600
Graphics hardware
Supports Directx 9.0c or higher
Intel 915G or higher
Nvidia Geforce FX series or later
Ati Radeon X300 or later
Video memory
64 MB VRAM (minimum) | 128 MB VRAM (recommended)
See also
Edit