Shinobi Ryuu
忍流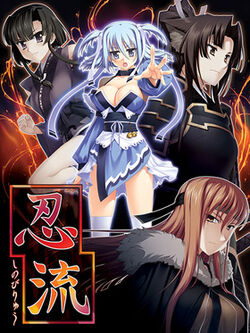 ©ソフトハウスキャラ
Version
1.01
Developer(s)
Softhouse Chara
Publisher(s)
Softhouse Chara
Release Date
December 18, 2009
Genre(s)
SLG
Mode
Single Player
Age Rating(s)
18+
Platform(s)
PC
Price
¥8800

¥9240 (tax included)
Shinobi Ryuu (忍流) is a ninja-management simulation game, developed and published by Softhouse Chara for Windows platform.
Gameplay
Edit
Main articles: System and Facilities
Shinobi Ryuu is a simulation game that focuses on managing hired ninjas as well as their village. Throughout the events in-game, player may choose to serve Lord of their wish. It is the 14th installment of Softhouse Chara games.
To complete the game, player must either defeat rival clan or help the Lord to conquer all of the lands.
Main article: Characters
The setting is Sengoku era.
In the east island country constantly stricken with wars, multiple ninja clans maneuvering in the background exists.One of them, the Suigen clan, started to weaken and its collapse is imminent. Leading that clan is the protagonist. Although his skill as a ninja is practically nothing, his management abilities and his capability to make enemy women betray their clan is top-notch.
With him at the helm, he plans to revive the clan and makes strenuous effort to subdue the wars.
Opening Video
Edit
| | |
| --- | --- |
| Title |   夜に飛ぶ龍 |
| Romaji |   Yoru ni Tobu Ryuu |
| Vocal |   Hiura Masako |
| Lyric |   Akizuki Kaoru |
| Arranger |   Akizuki Kaoru |
| Composer |   Akizuki Kaoru |
System Requirements
Edit
System requirements are as follows:
| | |
| --- | --- |
| Operating system | Windows XP/Vista/7 64 bit (recommended) |
| CPU | Pentium II 400 MHz (minimum) | Pentium III 700 MHz (recommended) |
| Hard drive | 0.8 GB free space (minimum) | 1.9 GB free space (recommended) |
| Memory | 128 MB RAM (minimum) | 256 MB RAM (recommended) |
| Resolution | 800x600 |
See Also
Edit